A craft project for future board game designers
These craft kits include everything needed to complete and playtest your new game.
Designer Level: Beginner
Ages: 6 to 12 years old
Skills Learned: Planning, Designing, and Playtesting
Game Type: Continues Track
Genre: Hero Quest
Step 1 - Open your Game Design kit
Craft Kit includes:
Themed Game board and path stickers.
2 Player Pawns. ( Randomly selected colors )
10 Colored pencils.
1 Special Game Dice.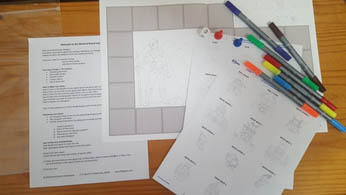 Step 2 - Color and Build Your New Game
Color the artwork
Plan the game path
Attach the game path stickers.
Your new game is ready to play!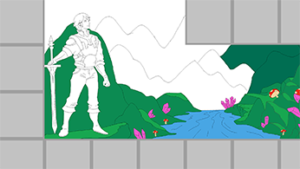 Step 3 - Playtest Your New Game with Family and Friends
Planning a Game Design Party for your young one?
Buy the 10 kit party pack and save on time, planning, and cost.
Shipped free anywhere in the USA.